Selecting a divorce attorney in North Carolina
While a legal firm can't protect your heart, they can protect your children and your assets.
It can be difficult to know where to turn when dealing with divorce, child custody, money, and property issues. Unfortunately, most people don't spend much time selecting their legal representation, immediately signing on with a law firm shared by a neighbor or friend. Because changing lawyers mid-case can be costly and sometimes case-damaging, consider these nine things when selecting a divorce attorney that will protect your children and your assets:
1) Experience in North Carolina family law
Look for an attorney with substantial experience in the area of North Carolina Family Law. A family law-focused attorney is more familiar with state case law, local rules, required procedures, and opposing counsel. Armed with this experience, they should be able to give you good advice regarding the facts of your situation. Rice Law is experienced in these areas. In fact, one senior member has over 38 years of experience in family law.
2) Strong client testimonials
Is the referral based on a successful case? A referral from a trusted friend or business colleague concerning the quality of service by their attorney is an important consideration.
3) An accessible attorney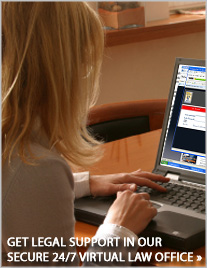 Be careful not to seek out the busiest lawyer unless you are confident that they will have adequate time for your case. One of the most common complaints about divorce attorneys is a lack of accessibility. A recent study of client satisfaction revealed these complaints against North Carolina attorneys, stating: "The lawyer didn't return my phone calls," "He didn't seem to have time for me," and "She didn't discuss my case with me until the day of the trial." At Rice Law, we pledge to keep you informed at every stage of the litigation. Abd we offer both traditional support and a 24/7 secure online Law Office with information on your case. Select an attorney who's accessible and will prepare you for trial.
4) The right support
Will all the work be done by the attorney charging you an hourly rate of $200 or more an hour, or is the firm large enough that a paralegal can prepare subpoenae, an associate attorney can perform the legal research, and an experienced litigator can take the case to trial? At Rice Law, we can staff every need.
5) The right approach
Is the attorney an aggressive litigator that can stand up for your rights or does the attorney push settlement and mediation? At Rice Law, we encourage case settlement on reasonable terms and encourage mediation𓴼and we aggressively litigate when reasonable settlement efforts fail.
6) A range of services
Does the lawyer only provide full-service representation, or are they willing to unbundle services to meet your legal and financial needs? At Rice Law, we offer traditional full service representation as well as unbundled services, many of which allow for self-representation.
7) Initial consultation fees
New attorneys often offer an initial consultation without charge. Established attorneys generally require a flat fee for an initial consultation or their hourly rate.
8) Flat fee or hourly rate
A flat fee gives you the peace of mind that you'll only spend a certain amount for the contracted legal services. However, to control the risks of a flat fee, many attorneys specifically limit what the flat fee engagement entails. The advantage of an hourly rate contract is that the engagement is usually not limited, ensuring the attorney will be able to take every available action to advance your case.
9) Someone you can trust
Exercise caution in selecting your divorce lawyer. Seek out an attorney that's right for you—someone you can place your full trust and confidence in, as this is essential to successful representation. Rice Law believes the client-attorney fit is of utmost importance. That's why we carefully evaluate each case and decline those that don't fit.
Published February 5, 2009 | Authored by Mark Spencer Williams, Rice Law, PLLC