Welcome to Rice Family Law
Let us help you learn more with a free eBook & Video Workshop
"After participating in your workshop, I felt like I already knew you and your staff and I was prepared to take the next step" -- Rice Law Client
We created "Steps to Divorce", a free 30-page eBook that gives you a starting place for information and insights on separation and divorce. This helps answer many of the questions that may be on your mind right now. Sign up below and we'll send you this free information right away, which you can cancel at any time.
Get the Free eBook and Workshop Now
We have also created an easy online workshop with daily videos sent privately to your email over the next six days on different topics involved with NC Separation and Divorce. Please let us help you stop feeling so overwhelmed and start taking steps now to protect yourself, child(ren) and property.
Once you download "Steps to Divorce", you will automatically receive an email to confirm your free subscription to the full eWorkshop on separation and divorce in North Carolina. This confidential workshop will walk you step-by-step through the basic things you need to know. You can stop the workshop at any time though.
Clients often tell me how hard it is to pick up the phone and call our office because they're so sad to have to reach out and learn about divorce. That is why our team created this helpful eBook and our video workshop. These will truly help you consider your best options about whether and when to leave, what to take, how to handle child custody issues, and how to help make this process less painful on everyone involved.
We know this is a very difficult time and we thank you for letting us help. If you have any suggestions for how we can improve this online workshop please email me.
Sincerely,






Mark Spencer Williams
Rice Law, PLLC
Managing Attorney
mwilliams@ricefamilylaw.com

P.S. If you need immediate help, just give us a call at 910-762-3854.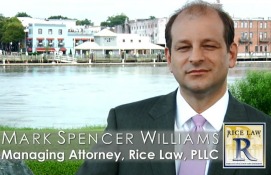 About Attorney-Client Privilege
Note: Emailing, messaging, or calling does not constitute Attorney-Client Privilege. Attorney-Client Privilege can only be obtained by meeting with Rice Law attorneys or having a signed contract with Rice Law. Use of our Divorce Workshop does not create attorney-client privilege.
Conflicts
Note: We may represent your spouse or another person with interests that conflict with yours. Do not send us personal details until we run a conflicts check and ensure that we have no conflicts. If you call our office, we can run a conflicts check while you are on the phone. We not only check for conflicts with a current/former spouse but also witnesses, etc.