Community
We hold these values first and foremost: fairness, honesty, respect, assets, and family values.
As a part of focusing on these values, Rice Law is proud to support our local community by sponsoring the following:
Rice Law, PLLC is a gold sponsor of New Hanover Relay For Life. As part of our community commitment, Rice Law is offering free legal services to create your personalized Advanced Health Care Directive (healthcare power of attorney) and/or a Living Will at the New Hanover Relay For Life on Friday, April 23, 2010.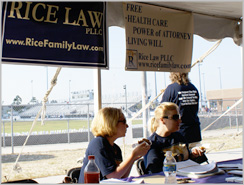 If you or a loved one is interested in these estate planning documents, Rice Law attorneys will be at the event to discuss and begin preparing these documents for you as a free service. Those participating in this offer will access their documents in the Rice Law VLO.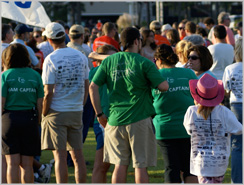 Learn more about Rice Law's participation in this event in the press release: Rice Law partners with new Hanover Relay for Life to fight cancer.

Photos from the 2009 New Hanover Relay For Life.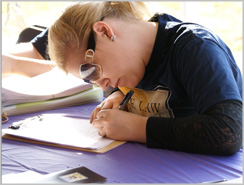 WasteWise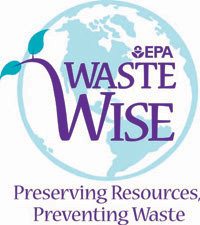 Rice Law, PLLC is an active member of the WasteWise program, actively practicing resource conservation and waste prevention. WasteWise initiatives practiced by Rice Law includes:
Virtual meetings – This allows prospective and existing clients to conference through Skype and Live Meeting without leaving their home or place of employment, thereby reducing car emissions.
Virtual Law Office (VLO) – Clients receive copies of all correspondence, pleadings and their file through Rice Law VLO or through email, saving paper.
PC Power Management – Personal computers are set to hibernate when not in use and are switched off at night. A smart power strip automatically turns off all other peripherals, saving electricity.
Compact Fluorescents – Replaced incandescent lights with CFs. Rice Law recycles the CFs at Home Depot so that mercury does not pollute the landfills.
Water – Rice Law discontinued bottled water and replaced with a water filter from Aqua Filtration Specialists and uses low-flow faucets.
Facsimile – All faxes are received on a virtual server as .pdf files and are not printed by default.
Service of Legal Pleadings on Opposing Parties – This is accomplished via fax.
Digitize! – All emails encourage recipients not to print but to save electronically. When printing drafts for review, duplex printing is employed to reduce the amount of paper used.
Recycled Paper – We purchase and print only on paper made from 100% recycled content.
eBills – Clients receive their invoices electronically.
Eliminate Styrofoam/Paper Waste – Rice Law provides coffee mugs and glasses for employees and clients, as well as uses metal utensils and washes dishes. Rice Law encourages team members to eat meals in the office.
Recycle and Reuse – All aluminum cans, glass, and other recyclables are recycled. Rice Law scans trial notebooks and reuses notebooks and tab dividers for other clients whenever possible.
eCommunications – Policies and procedures are communicated electronically. Rice Law has eliminated paper telephone messaging.
Resources

Your virtual law office
Message an attorney, check your legal calendar, or track your case in our secure online office (registration required)
Use the virtual law office
Learn how to use the virtual law office (VLO) in these short videos
Watch how to create an account »
Watch how to message an attorney »